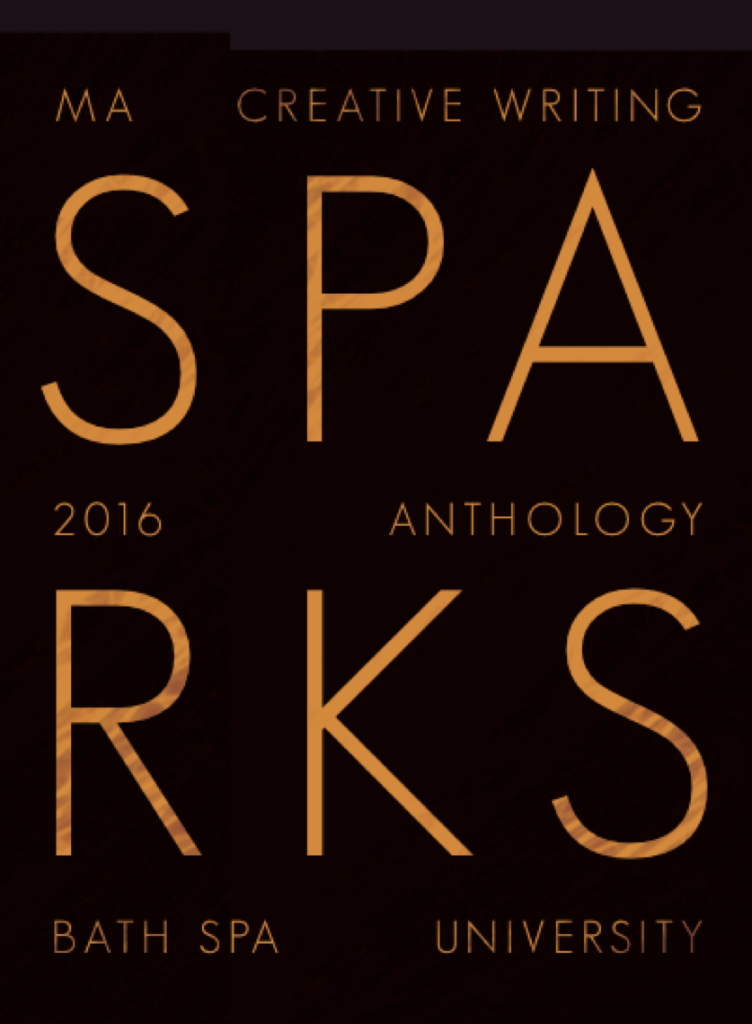 Turning the pages of this new anthology of work from the MA Creative Writing students at Bath Spa University, I'm moved once again, not only by some of the stories in themselves, but also by the idea of so many individuals – and so variegated, so unlike one another! – all wanting to write fiction. (And poetry: there are two distinctive, electric poets at the end of the volume, don't miss them.) All these individuals not only want to write, as you might want to travel to Sicily, or buy a new coat, or try ice-skating. They put so very much – time, money, effort, lifeblood, heart-hope – into that endeavour. It's something that matters to them, fundamentally.
Why?
Isn't there something slightly mad in the disproportion between those huge life-efforts and the smallness – the eccentricity, even – of the enterprise? Learning to write doesn't have the obvious, public usefulness of learning to build a bridge, or set a broken leg. Writing is making something up; telling a story or catching a moment's intimation, putting it down in words on a page for someone else to read. It looks, at least from the outside, like a quiet kind of business; less outwardly glamorous than playing in a band or making a film. And yet so many people are still hungry just to write a book. Of course I understand it, because I feel it too.
I think that part of the appeal is in that quietness, and the privacy of the act. If you want to go into TV or !lm you have to find other people, you have to raise money, perform in public, there's so much noisy other stuff surrounding the creative core. Writing happens – even if you're writing for tutors and fellow students on a course, or for your publisher – when you're alone, wrapped up in thought, probably more or less sitting in silence – though I do know some writers listen to music, or write in bustling cafés. (And of course screenwriting too begins, at least, in just such a solitary place.)
It really is a kind of contemplation, every bit as deep as prayer or philosophy. Sitting down with ourselves, in a time set specially apart, we test the deep pressure points where experience intersects with language, trying to feel our way, through words, to what it is we know, or half-know. This contemplation is just as necessary for a writer of light comedy as it is for anyone embarked on a tragic tale. Inside the sustained contemplation there's an encounter between what's inside ourselves – our dreams and the secret texture of our inner lives – and the resistant, difficult world of real things outside, freighting our fantasies with weight and form, giving our stories bite and friction. Consciousness works with language, to name and represent experiences, to test for truth, to pull our intimations free of the passing moment and hold them still as time goes hurrying past.
It turns out to be a pretty ambitious business after all. And even glamorous.
Lovely, gratifying sentences leapt out at me as I read the pieces assembled here. 'No point hiding it now: today I've finally become old. Well, it's probably about time at seventy-eight – but I've been middle-aged since I was twelve and, as always, I'm reluctant to change.' Or there's the little boy who loves Star Wars: 'His dad had gone over to the Dark Side, since he met Dawn, Matt's stepmum.' (It's calling her Dawn that does it.) A woman's lover arrives unexpectedly at her door after they've been separated for years by the wars in the Balkans: 'Jola wanted to start the evening again, get him to stand outside her door so she could dust everything, tack some kind of colourful cloth over the wires, put on a dress … '
The writers transported me to Aberfan in Wales, still processing the long aftermath of its disaster; to Soviet Ukraine; to Medellín in Colombia, post-narcos; to the Spanish Civil War; to Japan in the middle of an earthquake. There are fantasies, thrillers, sci-!, comedies, as well as literary realism. One character protests against the G8 summit in Italy; one is a rogue taxidermist; one is an Indian domestic servant in Bahrain at the time of the Arab Spring, piecing together her employers' implication in dark crimes. Bright Young Things are flirting in contemporary Delhi; someone on a train in England is incensed by a noisy mobile phone call in the quiet carriage. One man in a vegetative state has full consciousness, but can't communicate; another man, hungry for more in his life than work and play, falls under the spell of a guru who might or might not be a charlatan; a Dalit woman in India is bitten by a snake and the villagers quarrel over her funeral in a picaresque dark comedy. A girl drowns in a waterhole in outback Australia, and twenty years later the whole community is still hanging on to its secrets – who was there with her, that night?
And much, much more, that's just as good.
How mysterious it is, this business of 'making things up'. It's a joyous freedom and yet it's never completely free, always answerable somehow – even in fantasy – to the truth of the world outside. Each piece in this sparkling collection, so full of interest and packed with difference, is a testament to the serious hard work of writing, a treasure brought back from a deep place. I'm quite sure that some of these writers will be significant voices in our future.
Tessa Hadley is the author of six highly praised novels: Accidents in the Home, which was longlisted for The Guardian First Book Award; Everything Will Be All Right; The Master Bedroom; The London Train, which was a New York Times Notable Book; Clever Girl; and The Past. She is also the author of two short story collections, Sunstroke and Married Love, which were also New York Times Notable Books. Her stories appear regularly in The New Yorker and she was awarded a Windham Campbell prize for Fiction in 2016. She is Professor of Creative Writing at Bath Spa University.